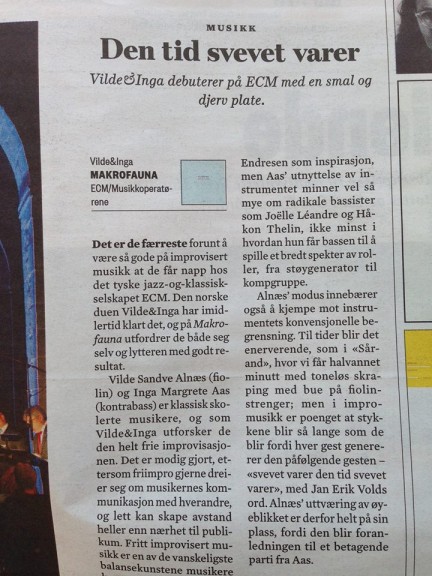 July 14, 2014
We're happy with good reviews of Makrofauna! Most lately from Eyal Hareuveni in All About Jazz:
The profound interplay of Vilde&Inga is telepathic. The two expand and extend each others sounds in such a natural and immediate manner that it is almost impossible to know where the duo's sounds begin or end. The improvisations are concise, intense even in its most still moments, especially on the title piece. Each improvisation discovers a distinct sonic universe, charge it with a unique feel and color, and all employs the inventive, extended techniques with great reserve and focus. (…) Remarkable debut.
You can read the whole review here.
We have also gotten nice reviews in the norwegian press. For our norwegian reading audience, have a look at Terje Mosnes review at JazziNorge, the review in Oppland Arbeiderblad or in Morgenbladet.